Schmitz Woodworks has been the premier manufacturer of custom cabinetry in Santa Cruz county for over 35 years. The company was founded by Dave Schmitz with the help of his father, Herman Schmitz, in a small midtown Santa Cruz shop with the simple dream of working together and providing a quality product and enjoyable experience.
Since starting out with that simple goal, their humble beginnings have grown to over 20 employees, a 10,000 square foot facility, thousands of completed projects, and the company now extends to a third Schmitz generation.
Schmitz Woodworks is currently operated by Samantha Schmitz and her father Dave. While the company continues to grow and styles change from year to year, the core mission of the team has always stayed the same.
The entire Schmitz Woodworks team continues to strive for perfection on the more than 200 projects they complete each year and can't wait to work with you!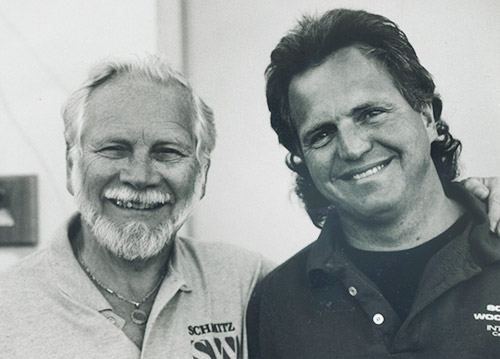 Herman & Dave Schmitz, Founders